At the Bristol Raspberry Jam in October 2012 I saw someone with a small 3.5 inch LCD attached to their Raspberry Pi. It cost less than £20 so I decided to buy myself one.
I had no idea what I was going to use it for but decided to worry about that another time.
What you get in the box
3.5 inch TFT LCD screen
2 female phono sockets for AV inputs (Yellow & White)
1 male 5.5mm DC power jack with in-line fuse (Red)
1 cable with female 5.5mm DC power plug on one end (Black)
The screen accepts a composite video signal and is powered from 12V. You need to provide your own power supply and composite lead to connect to the Pi. I had both of these parts in my box of spare "stuff". I used a 12V 2A power supply that came with an external hard drive as it had the correct power plug on it.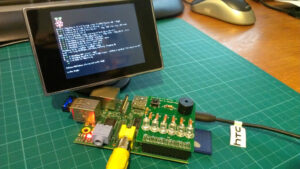 Powering from 5V
The device is sold as a reversing camera screen for a car so it is not surprising that it is designed to be powered from 12V. In the world of the Raspberry Pi 5V is sometimes a more convenient voltage to be working and it is possible to modify/hack this device to run from 5V. This procedure is detailed in the RaspberryPi.org forum thread, Modifying a 3.5″ car display for USB power.
Making the console text larger
The text on the screen is very small and barely readable. This can be improved by increasing the font size of the console text. To do this run this command :
sudo dpkg-reconfigure console-setup
Then using the arrow and enter keys select the following options :
UTF-8
Guess optimal character set
VGA
16×28 (framebuffer only)
Wait a few seconds and the console text should change. It is now much easier to read on the 3.5 inch LCD screen.