The first add-on from the Raspberry Pi Foundation is the official camera module "RaspiCam". It's been a long time coming but it is finally available to buy from Farnell, CPC (order code SC13023) and RS. The module attaches directly to the Pi PCB via a ribbon cable and the CSI connector.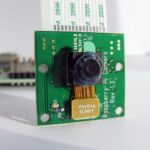 The camera module is an OV5647 made by OmniVision and measures 8.5 x 8.5 x 5mm. The whole unit including the PCB measures 25mm x 20mm x 9mm. The camera contains a fixed focus 5-megapixel CMOS image sensor and is capable of recording 720p and 1080p HD video at 30 fps.
5 megapixel
2592×1944 stills
1080p at 30 frames per second
720p at 60 frames per second
640x480p at 60/90 frames per second
CSi interface with 150mm ribbon cable
PCB+Camera module weighs 2.4g, ribbon cable weighs 1.0g
The camera is officially supported by the latest Raspbian SD card image but you will need to follow the setup instructions in Eben's post first.
Here is a video showing how the camera modules ribbon cable should attached to the connector on the Raspberry Pi.
For full instructions on getting the camera working with Raspbian see this excellent camera setup and use post on the RaspberryPi.org site. It includes instructions on taking video and stills. Their is also a detailed set of camera documentation available which details all the command line options for the camera utilities (raspistill, raspivid and raspistillyuv).
Here are some photos of my Camera Module :