For all of my projects I have used the standard GPIO header pins as inputs and outputs. This gives you a total of 17 pins to play with but what if you need more?
The easiest way of getting more inputs and outputs is to use an "i/o port expander". This is a device that allows you to control a number of ports using data you send to the device.
Other people have has lots of success using I2C devices so I decided to give one a try. I2C is a serial communications protocol which allows chips to swap data on the same "bus". A port expander takes the data and controls the appropriate pins. This allows lots of sensors and devices to be controlled using only a few of the Pi's GPIO pins.
The Hardware Set-up
The device I chose was a MCP23017 I2C port expander with a total of 16 ports. To drive it you use the two I2C pins on the Pi's GPIO header (Pins 3 and 5). This would give us 31 (15 + 16) inputs or outputs to play with!
It's actually possible to drive multiple port expanders giving you a huge boost in the number of inputs or outputs available. Adding another MCP23017 would increase the GPIO count from 31 to 47 (15 + 16 + 16). All for a few £/$.
The great thing with these devices is that they are cheap (a couple of £/$) and require very few external components.
In this example I've got 3 LEDs and a push switch connected to the device which is being driven by the two I2C pins on the Pi. I've used 330 ohm resistors to limit the current through the LEDs. You can use other suitable values but I tend to use 330 (as I've lots of them available due to my BerryClip stock!) :
The switch resistor is 10Kohm and ties the input to ground. This insures the input is Low until the switch it pressed. Pressing the switch places 3.3V on the input resulting in it going High. The resistor stops this resulting in a short circuit between the two power rails.
Pin 9 (VDD) is connected to 3.3V
Pin 10 (VSS) is connected to Ground
Pin 12 (SCL) is connected to Pin 5 on the Pi GPIO
Pin 13 (SDA) is connected to Pin 3 on the Pi GPIO
Pin 18 (Reset) should be set high for normal operation so we connect this to 3.3V
Pins 15, 16 & 17 (A0-A2) determine the number assigned to this device. We are only using one device so we will give it a binary zero by setting all three of these pins to 0 (ground)
Here is a photo of my test circuit built on a small piece of breadboard :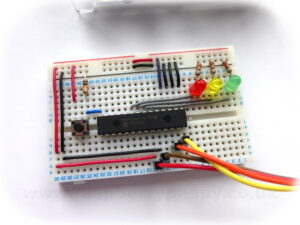 The System Set-up
To use I2C on the Pi you need to enable a few things in Raspbian as by default it is not enabled. This is a fairly easy process and is described in my Enabling The I2C Interface On The Raspberry Pi tutorial.
Testing The Hardware
Once you've enabled you i2c interface and connected your hardware double check the wiring. Make sure 3.3V is going to the correct pins and you've got not short circuits. Power up the Pi and wait for it to boot.
If you've got a Rev 2 Pi or later then type the following command :
sudo i2cdetect -y 1
If you've got an original Rev 1 Pi then type the following command :
sudo i2cdetect -y 0
Why the difference? Between the Rev 1 and Rev 2 versions of the Pi they changed the signals that went to Pin 3 and Pin 5 on the GPIO header. This changed the device number that needs to be used with I2C from 0 to 1.
I used a Rev 1 Pi and my output looked like this :
pi@raspberrypi ~ $ sudo i2cdetect -y 0
     0  1  2  3  4  5  6  7  8  9  a  b  c  d  e  f
00:          -- -- -- -- -- -- -- -- -- -- -- -- --
10: -- -- -- -- -- -- -- -- -- -- -- -- -- -- -- --
20: 20 -- -- -- -- -- -- -- -- -- -- -- -- -- -- --
30: -- -- -- -- -- -- -- -- -- -- -- -- -- -- -- --
40: -- -- -- -- -- -- -- -- -- -- -- -- -- -- -- --
50: -- -- -- -- -- -- -- -- -- -- -- -- -- -- -- --
60: -- -- -- -- -- -- -- -- -- -- -- -- -- -- -- --
70: -- -- -- -- -- -- -- --
This shows that I've got one device connected and its address is 0x20 (32 in decimal). This is because the three address pins are set low. If you set A0 high the address would become 0x21 (33 in decimal). How you set A0, A1 and A2 is up to you but all your I2C devices must have a unique address.
Command Line Test
To do a quick test we can use the command line to enable the LED on GPA0 :
First we configure Port A pins GPA0-6 as outputs and GPA7 as an input. (10000000 in binary and 0x80 in hex) :
sudo i2cset -y 1 0x20 0x00 0x80 

Then we set GPA0 to logic high which will enable the LED :
sudo i2cset -y 1 0x20 0x14 0x01

To turn off the LED we use :
sudo i2cset -y 1 0x20 0x14 0x00
Remember to replace the 1 with a 0 if you are using a Rev 1 board.
It's time to start using those extra GPIOs …
Check out How To Use A MCP23017 I2C Port Expander With The Raspberry Pi – Part 2 for instructions on how you can control outputs using Python scripts.
Check out How To Use A MCP23017 I2C Port Expander With The Raspberry Pi – Part 3 for instructions on how you can control inputs using Python scripts.
Here are some photos of my test circuit for reference :