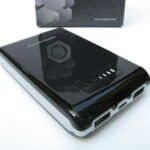 One of the great things about the Raspberry Pi is that it is easy to go portable. What is even better is that because the Pi can accept 5V it will work with lots of power accessories designed for mobile phones and tablets.
In previous posts I have run a few of my Raspberry Pis from standard AA batteries and a generic Li-on Power Pack. This week I tested a RAVPower 10400mAh Power Bank to see how long it could power a Pi running my standard battery test.
RAVPower Power Bank (RP-PB07)
The RP-PB07 (also known as Dynamo On-the-Go Power Bank) box contained the following items :
Power Bank unit
2 USB-to-MicroUSB cables
Flannel bag (felt pouch)
Instruction manual
and has the following features
10400mAh capacity
2 USB output ports (1A and 2A)
1 MicroUSB input port for charging
4 stage blue LED status bar
On/Off switch
As with most Power Banks its comes half charged. This might seem strange but Li-on battery performance is maximised if they are stored at 40-50% capacity. I plugged it into an Asus Nexus 7 2A MicroUSB charger and let it charge to 100%. Due to their huge capacity these sort of batteries take a while to charge. The blue status LEDs let me know when it was ready.
Test Setup
Once fully charged I was ready to start the test. The Pi was setup with the following equipment :
Raspberry Pi (Rev 1)
BerryClip addon board
SD card with Raspbian "Wheezy" (2013_02_09)
RAVPower 10400mAh Power Bank
USB to MicroUSB cable (as supplied with the Power Bank)
Python script as used in my AA battery shootout post
The Pi was networked and I used Putty to connect to it from PC. This was used to set off the Python script. The current uptime was updated in the Putty window and I just had to wait until it stopped working.
Predicted Battery Stamina
My eBay 12000mAh Power Bank lasted 18 hours 40 minutes (1120 minutes) so a rough guess would be that 10400mAh would give me (10400/12000) x 1120 minutes which equals 16 hours 10 minutes (970 minutes).
Comparing to my AA data the predicted time would be between 14 hours 50 minutes and 16 hours 40 minutes.
Results
The RAVPower pack lasted 17 hours 55 minutes (1075 minutes). This was almost an hour longer than I predicted based on past experience. The Pi isn't doing much in this test but it showed the RAVPower was better per mAh than the larger generic power pack I bought from eBay.
It's a great addition to my battery collection and when it's not powering a Pi I can use it to charge a phone or tablet.
The RAVPower RP-PB07 10400mAh External Backup Battery Pack is available from Amazon :
Photos
Here is a set of additional photos I took of the battery pack, its accessories and my Pi setup: