Yesterday I went to the Raspberry Jam in Cambridge. This was 170 miles from my home but I thought it would be nice to visit the birthplace of the Raspberry Pi and meet some of the Pi enthusiasts who I follow on Twitter and various other virtual environments.
Once I dropped my wife and son in town I arrived at about mid day which left me with a bit of time to setup the various Pi projects I had bought with me to display in the show-n-tell area.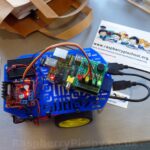 My friend Graham from RaspberryPiSchool.org.uk had already setup the table so all I had to do was unload my box of assorted cables, Pis, plastic cases, bits of cardboard and budget business cards.
The event was organised by Mike Horne (@recantha) and a small group of much appreciated helpers. It was split into into a number of zones including a lecture theatre for talks and presentations, a marketplace with a cool selection of Pi goodies and a set of show-n-tell tables.
The talks and presentations allowed people to dip in and out and browse the other areas and I really liked this format. It would have been nice to see all the presentations but there was so much to see and so many people to chat to it was hard to know how to spend the time.
A number of 5 minute "lightning talks" were given by Ciseco, Cyntech, PiBorg and The Pi Hut. Overall the timekeeping was excellent and made planning your time easy (if you are into that sort of thing!).
Longer presentations were given by Ryan Walmsley, Alex Eames, Jim Darby, Matthew Manning and Leo White. Kit demos from the vendors were given by Ciseco, Pimoroni and PiBorg.
The presentations and kit demos were all well timed and informative and avoided taking advantage of peoples' time. With the option to pick and choose from the programme an excellent atmosphere was created. Everyone was nice and friendly with lots of enthusiasm and ideas in the air.
The vendors did a good job of selling a range of Pi accessories to suit all budgets and the PiBorg table could almost be described as a work of art!
Here are some photos I took of the event :
Although my photos don't really show it there was a good range of people there including the more mature hobbyist, teachers and parents with their children. My son who arrived towards the end of the event particularly liked Leo White's BigTrak collection.
I didn't get to track down everyone on my list of people to find but here is a special mention for some of my Twitter heroes :
@raspitv (Alex Eames, www.RasPi.TV)
@recantha (Michael Horne, www.recantha.co.uk)
@RaspPiBeginners (Matthew Manning)
@MissPhilbin @GeekGurlDiaries (Carrie Anne Philbin, www.geekgurldiaries.co.uk)
@ryanteck (Ryan Walmsley, www.ryanteck.org.uk)
@Gadgetoid (Phil Howard, pi.gadgetoid.com)
@RaspberryPiGuy1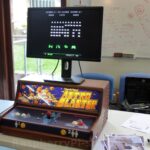 If you haven't already bookmarked/followed these Pi fans then I can highly recommend doing so for all the latest Pi news. Apologies to anyone I've missed out. It was a lot to take in and it was a long drive home and I'm sure I've forgotten a few details as a result.
I didn't plan on spending any money but I still came away with a bag of Pi accessories. I'll cover those in a future blog post.
Thanks to my wife for cancelling a previously organised engagement which I didn't notice in the calendar when I planned our trip to Cambridge.