Over the last two years I've acquired a set of portable USB power banks. These are great for powering the Pi and the larger ones can keep a Pi running for many hours. In previous posts I've tested standard AA batteries,  a generic Li-on Power Pack and a RAVPower 10400mAH Power Bank.
Now it's the turn of the Lumsing 11000mAH power bank. This device is slightly unusal in that it has 5 USB outputs. Yes five. This gives you the chance to run 5 devices from it. In a future post I'll see what I can run off it but for this test I'll just be using a single 1A rated port.
Lumsing Power Bank (PB-AS008)
The package contained the following items :
Power Bank unit
2 USB-to-MicroUSB cables
Carrying pouch
Instruction manual
and has the following features
11000mAh capacity
40.7Wh
5 USB output ports (0.5,1,1,1.3,2.1A)
1 MicroUSB input port for charging
4 stage blue LED status bar
On/Off switch
The battery had some charge in it when I first switched it on but I charged it fully before I attempted to use it. As it charged the blue LEDs showed the progress.
Test Setup
Once it was charged I got ready for the test. The Pi was setup with the following equipment :
Raspberry Pi (Rev 2)
BerryClip addon board
SD card with Raspbian
"Wheezy" (2013_02_09)
Lumsing 11000mAh Power Bank
USB to MicroUSB cable
(as supplied with the Power Bank)
Python script as used in my AA battery shootout post
The Pi was networked and I used Putty to connect to it from PC. This terminal was used to set off the Python script with the following command :
sudo python battery_uptime_test.py
The current uptime was updated in the Putty window and I just left it running. When the power runs out the time left in the Putty windows gives me the total uptime.
Predicted Battery Stamina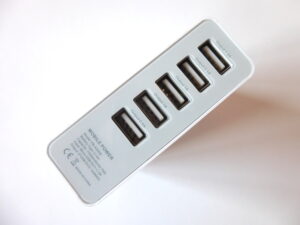 My eBay 12000mAh Power Bank lasted 18 hours 40 minutes (1120 minutes).
The RAVPower 10400mAh Power Bank lasted 17 hours 55 minutes (1075).
So a good guess would be (11000/10400)*1075 = 1137 minutes compared to the RAVPower's slightly lower stated capacity. That would give us 18 hours and 57 minutes.
Results
The Lumsing pack lasted 19 hours 22 minutes (1162 minutes). This is almost 30 minutes longer than the prediction. The Pi isn't doing much in this test but it showed the Lumsing was in the same league as the RAVPower.
Lumsing power banks are available from Amazon.
Photos
Here is a set of additional photos I took of the battery pack and my Pi setup: