If you attempt to re-use an SD card you might find the usable capacity is less than you were expecting. This can be due to partitions previously configured and some "format" utilities can't remove them.
Raspberry Pi SD cards will often only appear to have a capacity of 56MB in windows but that is because it can't see the much larger Linux partition.
In order to ensure my SD cards are completely blank and has no partitions that may be hidden from Windows I always erase it with "SD Formatter" on my PC first. This is a tool created by the SD Association. It is quick, easy and free! You can download it from the Official SD Formatter website and it is available for both Windows and Mac.
Download & Install
Visit the Official SD Formatter website and download the installer for your operating system.
Step 1 – Run
Insert your SD card and run the SDFormatter application :

Note how my card only appears to have a capacity of 56MB despite being a 4GB card.
Double check the drive letter. Then check it again. You do not want to format another device by accident!
Step 2 – Enable Size Adjustment
As we are specifically interested in restoring the true capacity of the card click "Option" and turn "Format Size Adjustment" to "ON".

Click "OK".
Step 3 – Format
Click "Format" to start the process.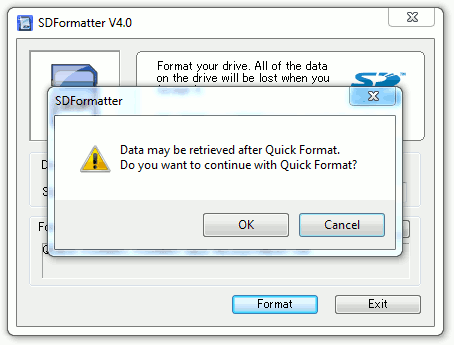 Click "OK" to proceed.
Click "OK" to proceed.
The process should start and it should only take a few seconds.
Step 4 – Finish
When the process finishes it will provide a summary of the cards capacity.
In my example the 4GB card has a capacity of 3.74GB which sounds right. Certainly an improvement on the 56MB that appeared before.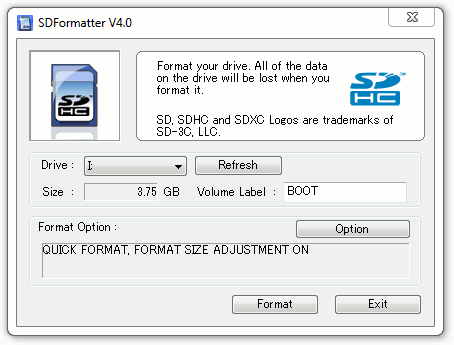 You can now click "Exit". Eject your SD card as normal.
Now you are ready to write a new Raspberry Pi image to it.