The IMNEED GC-802 power bank from Lumsing is a small USB power bank with a capacity of 3200mAh. As with my other power banks I decided to see how long it could run a Raspberry Pi for.
Specifications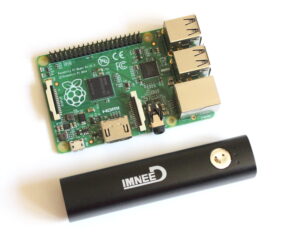 Here are the overall specifications :
| | |
| --- | --- |
| Size | 97mm x 22mm |
| Capacity | 3200mAh |
| Weight | 78g |
| Input | MicroUSB 5V/1A |
| Output | USB 5V/1A |
The device is rectangular in shape with rounded edges. The case is aluminium with both USB sockets at one end. It includes an LED so you can use it as a torch. Unlike the cylindrical power banks the flatter sides on this one make it easier to stick or strap down in your Raspberry Pi creations.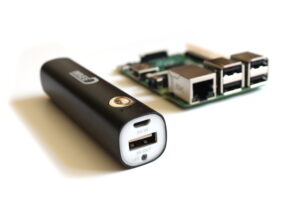 Estimates
Using the Pi Power Estimator Android app I predicted a runtime of 482-604 minutes on a Raspberry Pi B+ and 428-536 minutes using a Pi 2 Model B. That is with Ethernet active and a BerryClip on the top running an LED light sequence.
Results
Here are the final results :
Raspberry Pi B+
9 hours 6 minutes (546 minutes)
Raspberry Pi 2 Model B
8 hours 32 minutes (512 minutes)
Tha't s a good performance and right in line with my expectations. A Raspberry Pi Model A+ with WiFi should give in the region of 12 hours (650-810 minutes).
The IMNeed 3200mAh Power Bank is available from Amazon for £17 ($14).