On the 23rd August 2015 the At-Bristol Science Centre hosted the 2nd Bristol Mini Maker Faire. It was two years ago that I attended the event at the M-Shed so I had been looking forward to this for a long time.
I stuck my rucksack in a locker so I could travel light armed only with some money, a camera and a mobile phone. There was plenty to see and a good mixture of exhibits, demonstrations and workshops intertwined with a friendly atmosphere.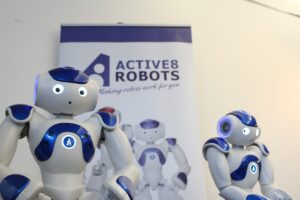 The highlights included :
3D printing
Laser cutting
Robots
Giant knitting
Painting with bacteria
A Baxter robot from Active8 Robots
A fruit based musical instrument
If that wasn't enough you could also :
Interact with Twitter on a BBC micro
Calculate sums using Twitter and the Pi powered @Twittithmetric machine
Laser cut wood
Feel someone else's heart beating in the palm of your hand with "heartfelt"
Browse a fine selection of robot components from Dawn Robotics
There were also some beautifully made items including :
Puppets
An animatronic dinosaur
Arduino based cyber-pets from CircuitBeard.co.uk
A custom made motorbike (as seen on TV!)
Hacked toys
Solar powered cars
Ukuleles
Ragworm were also on hand to demonstrate the variety of PCBs they have created for their growing list of clients in the maker community. My son took full advantage of their generosity and left the building sporting a range of promotional items in Ragworm orange.
A number of the stalls were run by members of the Bristol Hackspace and they brought along their new laser cutter. My wife appreciated the free canvas bag with a hackspace logo on it, made by hand before her very eyes.
Although I promised myself I wouldn't, I ended up ordering a "Fisher" delta 3D printer from RepRapPro. I liked its small footprint which will give me a fighting chance of finding somewhere to put it. My son has high expectations and wants a collection of giant Lego figures.
It arrives next week and I'm sure it will contribute to future blog posts.
Here is a quick video I put together from the photos I took on the day.
For a slightly quicker run through I also made a 6 second version to put on Vine. I didn't embed it on this page to avoid making you all dizzy but you can click through to the Bristol Mini Maker Faire 2015 Vine if you want to take a look!
Apologies to anyone I've not mentioned in this post. There was so much to see. If anyone wants me to link to their projects for additional information email/Twitter/Facebook/Google+ me and I'll update this post.
Thank you to @MakerFaireBRS for organising the event and I can't wait for the next one in 2016.