In the 1980s the publisher Usborne released a series of 15 books that aimed to teach kids programming. They covered the basic fundamentals of computer programs as well providing code listing for lots of games. For some these books will offer a massive shot of nostalgia. If you owned a ZX Spectrum, a BBC Micro or a Commodore 64 you probably owned at least one or borrowed one from the library.
Usborne still produce computer books but they have released these classics as free PDF downloads. They might be old but are still relevant and the code exercises could be converted to other languages such as Python with a bit of thought.
The reason I loved these as a youngster is that the illustrations made the whole idea of programming a computer interesting. As an adult you can get your kicks out of pages and pages of syntax but kids need a bit more encouragement. The Usborne images that accompanied the examples and code listings made the whole experience fun.
The titles include :
Programming Tricks & Skills
Computer Programming
Computer Spy Games
Weird Computer Games
Creepy Computer Games
Battle Computer Games
Space Computer Games
Here are links to all 15 books in the series which you can download for free. Just looking at the "Space Games" cover reminds me of Lordswood Library in Kent where I rented it in what must have been the mid-to-late 80s ….
Introductions to programming

Computer games listings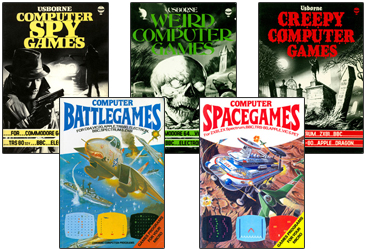 Adventure games

First computer library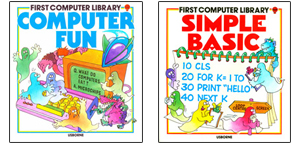 Copyright notice
These PDF copies of the original Usborne Computer Guides published in the 1980s are free to download for your own personal or educational use. The books and files are the copyright of Usborne Publishing. We have provided links to the original PDFs. You may not host or distribute the original files.
Please note
These books were written for 1980s computers such as the ZX Spectrum and BBC Micro. The programs will not run on modern computers unless they are translated to a suitable language.