On Friday I sent off from Bristol to travel to Cambridge for the Raspberry Pi's 4th Birthday weekend. Luckily my gamble with public transport paid off and I managed to get a seat for the entire journey. I read a few articles in the latest issue of The MagPi and learnt that some of the Pi 3 development was done at Aztec West in Bristol. This industrial estate isn't far from my house so I felt a little bit closer the Pi.
After three and a half hours I arrived in Cambridge ready to meet up with Graham (@rpischool).
Saturday – Day 1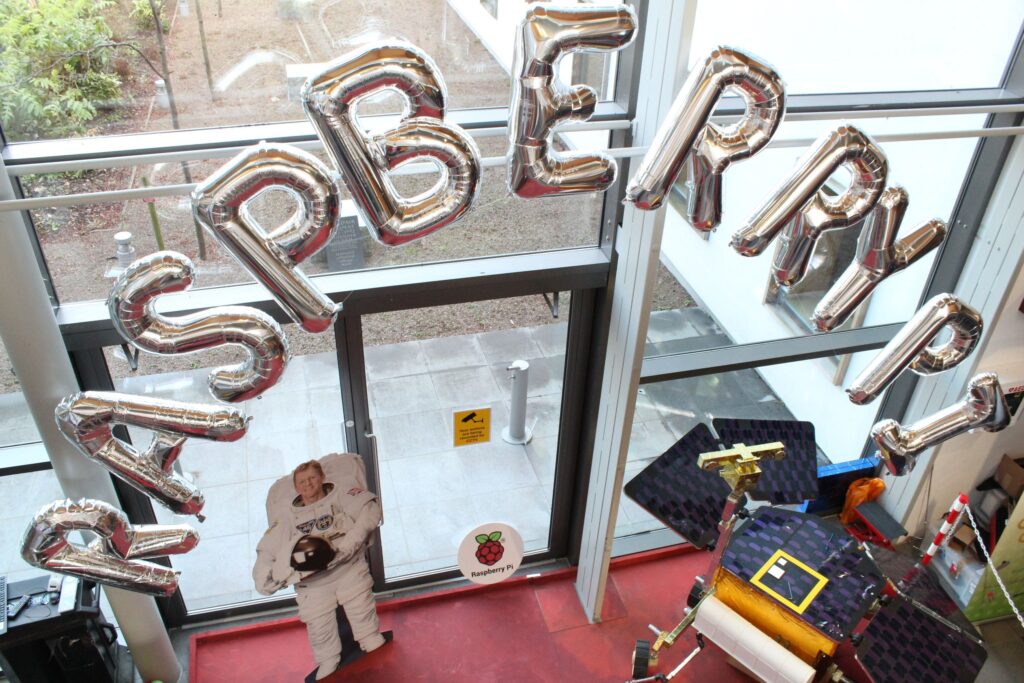 We arrived early on the Saturday so we would have a chance to look around before the crowds descended. There were a number of workshops on offer but we thought we would concentrate on the talks in the lecture theatres. There were plenty of others but these were the ones I attended :
10:30 Eben Upton – CEO of Raspberry Pi Trading
11:30 Charlotte Godley – Musical Python – a sheet music processing app
12:00 Alex Eames – Is Kickstarter dead yet? The pros and cons of crowdfunding.
14:30 Cat Lamin – Coding Evenings
15:00 Andy Baker – Zoe the Pi Quadcopter
15:30 AstroPi Awesomeness – Richard Hayler, Jasper Hayler-Goodall, Ozzy Hayler-Goodall
16:00 Young people and the Pi – Amy Mather, Joseph Thomas, Israel Genius, Zachary Igielman, Cerys Lock, Yasmin Bey
The youngsters did a great job of explaining the issues of encouraging young people to study technology. Presenting in front of an audience of strangers isn't easy for anyone and they coped just fine.
Of special note was "Zoe" the misbehaving Pi powered drone who entertained the audience by bursting into flames on the third flight. Andy did a fantastic job of putting out the fire and seamlessly finishing his presentation.
The area outside the lecture theatres was lined with a selection of tables filled with Pi accessories or show-n-tell exhibits. The atmosphere was amazing and it was easy to chat with the person next to you without any sense of awkwardness. For many of us it is a great opportunity to talk to people we normally only recognise by their Twitter handle or profile picture.
Me and Graham met a few new faces simply by sharing tables in the food area. It was a pleasure to meet Andy and Joseph who had traveled to the UK from Germany with their Pi enhanced skateboards.
One of the retail tables was manned by the Pi-Top team. The Pi-Top is a Pi based opensource laptop. Now the one thing I realised seeing the device in the flesh is that it is a really nice piece of stylish technology and not a Pi shoved in an industrial project box which is what comes to mind when someone mentions a Pi "laptop". I would probably go for a black one but wouldn't feel self-conscious pulling either colour out in a coffee shop or on the train.
It was at the Pi-Top stand that we witnessed a small child politely turning down a free t-shirt. A quick bit of advice from his dad and everyone sighed a sigh of relief as he changed his mind. Remember kids one of the objectives when going to technology fairs or exhibitions is to get a free T-shirt!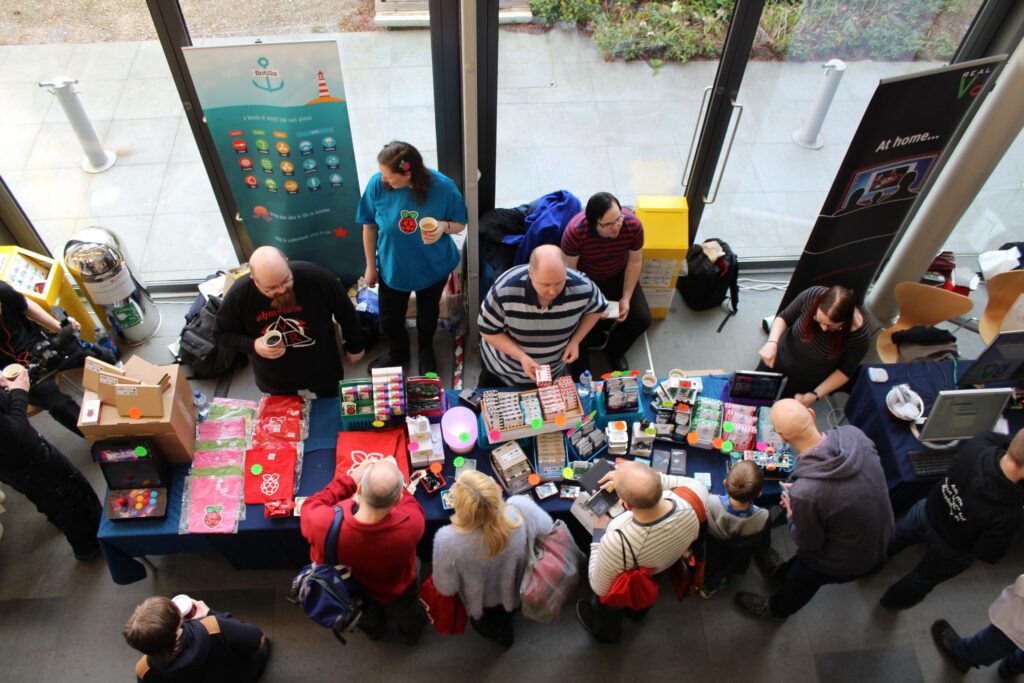 In the evening those with party tickets got to relax with a bit of techno-magic where Connor (@connorbanona) got his brain wired up to a mind control device.
Then it was time for the main event. Pizza and cake. There was some confusion as to what was more important. Ultimately I decided to eat my way through the pizza on my way to the far corner where the cakes were stacked. Once Ben (@ben_nuttall) entered the building it was only a matter of time before the pizza ran out.
Then Eben and Liz cut the cake. There were lots of photos and clapping. Which isn't easy if you are holding a camera, pizza, a glass of wine and two cupcakes.
Sam Aaron provided the music via some live Sonic Pi coding :
https://vine.co/v/iX5EPrvJvrj
On the way out we collected our party bags and a Pi t-shirt. That was my second t-shirt of the day 🙂
In the evening we swapped geeky stories over a pint but if I wrote about those I'd have broken the first rule of Pi Club.
Once back at the hotel I uploaded my "Zoe" footage to YouTube because I had a hunch the flaming drone was going to be quite popular. No idea why …
---
Sunday – Day 2
After a few hours sleep we headed back to the Computer Lab for Day 2. This was an opportunity to spend a bit more time looking at the displays and listening to a few more talks.
12:00 Martin O'Hanlon – Minecraft on the Raspberry Pi
14:00 Yasmin Bey – Encouraging girls in tech
14:30 Daniel Pope – Pygame Zero
15:00 Andrew Mulholland – Running Pi Zero over USB OTG
15:15 Tom Hartley – piShift
I meant to go to Ben's GPIO Zero talk but I was busy talking to Jacob from ModMyPi so I missed it. These were another set of good quality presentations.
The PiZero stuff was really interesting and showed how a PiZero could be controlled over a single USB cable. The details of this technique are on Andrew's blog. Tom introduced piShift which is a technique for dynamically updating a Python script on a PiZero using a single cable. These two presentations resulted in a few PiZero sales for The Pi Hut I suspect.
All too quickly it was time to leave. We dropped Andy and Joseph off in Oxford and headed back to Bristol.
---
Here some photos :
---
Here is a slideshow video made up of more photos :
---
Epilogue
Thank you to everyone who helped organise the event, ran workshops, gave talks and filled the space with interesting exhibits. Thanks to RealVNC, Microsoft, Element14, The Pi Hut and ModMyPi for you sponsorship and fine array of wares.
Thanks also to the parents, children, teachers, hobbyists, bloggers for the friendly atmosphere.
Thanks to the Pi Foundation for creating some awesome hardware that is without doubt starting to make the impact it was always destined to make.