This basic object can be used to mount a Raspberry Pi camera using 2mm nylon bolts inside an IP67 junction box. It is 57.5mm wide and fits inside certain IP67 Sealed ABS Plastic Junction Box measuring 73x80x53mm.
I created it to mount a camera inside a weather-proof box to serve as a security camera. The cylinder can be rotated in the box to adjust the camera pitch angle.
Specifications
Centre hole : 4mm diameter to accept 3mm threaded bar
Total length : 57.5mm
Cylinder radius : 10mm
Centre section thickness : 10mm
Recommended nylon bolt length : 15mm
The cylinder doesn't have to cope with many forces so an infill of 10-20% is fine. As with all printed holes they are best cleared with a suitable drill bit especially the holes for the 2mm camera bolts.
I used 3mm nyloc nuts on the end of the threaded bar to secure the cylinder in position.
Junction Box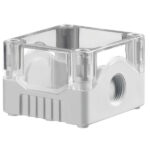 The junction box used is an Evatron IP67 ABS (DE Series) 80x73x53mm with 2 x M20 Knockouts. I like this style because it comes in a version with a clear lid.
Here is a link to the item on RapidOnline.com :
https://www.rapidonline.com/evatron-ip67-abs-2-x-m20-knockout-enclosures-de-series-200141
3D Printer STL Files
The mount is available from Thingiverse to download and print :
along with a magnetic mount for attaching lens :