Today the Raspberry Pi Foundation announced the release of a new PIXEL image that can be booted on a PC or Mac. It's a "live" distribution so can be run from a DVD or USB stick without needing to change your current OS. This is great for using the environment without the headache of dual booting or dedicating the device to PIXEL permanently.
The Foundation has decided to make this bold move for a number of reasons
Enable kids to transfer their system between school and home hardware if x86 machines are being used
Enable users to more easily work on, develop and deploy projects where Pi hardware isn't available
It's considered a prototype and things are likely to change in the future so watch this space!
Download Image
The image can be downloaded directly from the link below :
2016-12-13-pixel-x86-jessie.iso (Download size ~1.3GB)
or via Torrent using :
2016-12-13-pixel-x86-jessie.iso.torrent
Currently it is not listed on the Official Download page but I suspect that will change in the future.
Write Image
The image is a standard ISO file so can be written to a DVD or USB drive using your favourite utility.
To write SD/USB images I use Etcher using this guide : Write SD Card Images Using Etcher On Windows, Linux & Mac
Boot
The exact process to boot the image will depend on your hardware. You may be to consult your user manual or Google your model number.
For example for my Samsung S3520 I Googled "Samsung boot from USB". This gave me the instructions I needed to modify the Bios settings to allow the system to boot from a USB drive. I disabled "Fast Bios Mode" in the Bios settings and changed the "Boot Device Priority" so "USB HDD" was at the top. Then I saved and rebooted.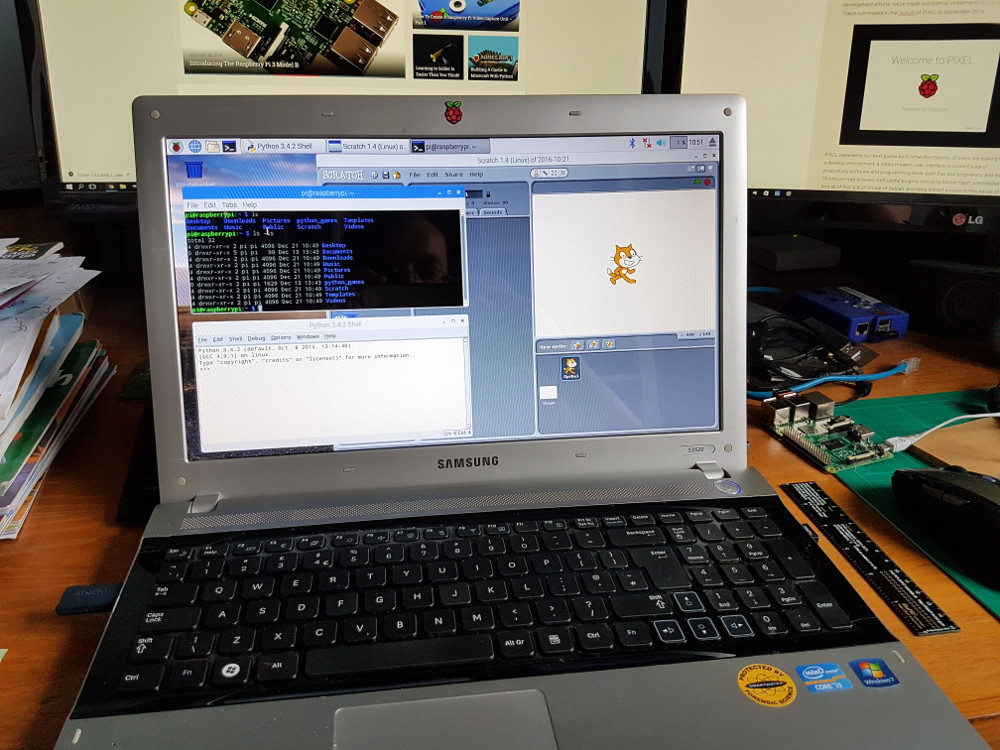 Virtual Machines
It is also possible to run this ISO image as a Virtual Machine. I loaded it within Oracle's VirtualBox on my Windows 10 PC.
Differences
The PC/Mac version has a number of differences from the Pi version we are all familiar with :
No Minecraft
No Wolfram Mathematica
No raspi-config utility
These differences are due to licensing issues or the fact that Pi hardware isn't being used.