KKSB were kind enough to send me two of their Raspberry Pi cases to try out. They were designed in Sweden and consist of a full metal enclosure to protect your Raspberry Pi from knocks and scrapes. They might be designed for industrial environments but I think it makes a great case for any Pi user.
The cases are compatible with the Pi 2 or Pi 3. The only real difference in these models is the location of the LEDs on the board but physically they both fit fine. The two finishes available are black and a rather nice brushed steel.
The two halves are made with laser cut stainless steel which are powder coated in the case of the black versions. The Pi itself it mounted to the lower half with two metal standoffs. The top half is then fixed in place with four metal hex-bolts. These are countersunk and are flush with the top surface.
The case has cut outs to allow access to all the Pi's connectors and includes a subtle side-slot to allow access to the 40 pin GPIO header. This is intended to be used with a ribbon cable but could be used with any other wiring scheme. The "fan" style vent on the side is there to minimise the the reduction in signal strength when using the Pi 3's onboard WiFi and Bluetooth.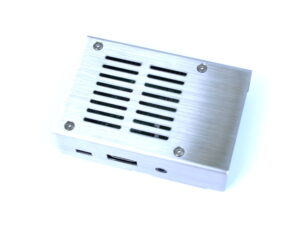 The case has 16 slots on the top surface to act as air vents but these are wide enough to route a Pi camera ribbon cable if required.
The overall dimensions of the case when assembled are :
Length: 92 mm

Width: 61 mm

Height: 29 mm
The underside includes two holes so that the case could be secured to a surface using screws or bolts. The holes are not slotted so the fixings would need to be inserted before the Pi was mounted inside.
Pros
Metal parts will last a lifetime
Looks higher quality than cheaper alternatives
Cons
More expensive than standard plastic cases
Underside holes require Pi to be removed before use
I really like this case. It's more expensive than the standard plastic cases out there but it looks robust, high tech and doesn't look out of place in a workshop or office. Given it is made from stainless steel it's likely to out-live any project you might use it in.
Buy a KKSB Case
The KKSB case is available from various retailers such as :
The black version is now housing the Pi in my garage security system. The brushed steel version is now looking great on my desk for general experimenting and testing.
For anyone who prefers watching video to reading here is a video version of this review :