Kano have recently released the Kano Motion Sensor Kit and they sent me one to take a look at. It comprises of a sensor which can be used to detect a moving object in it's field of view. The latest Kano OS has been updated to provide a whole suite of challenges that youngsters can work through to use the sensor and demonstrate its capabilities. As with other Kano activities progress is recorded in your Kano World online profile.
Here is a video made by the Kano team to introduce the kit :
The Kit
The kit comes in a nice cardboard carton with a USB cable, the sensor, a suction cup, booklet and stickers. The cable is a normal USB cable but has two recessed spots that clip onto the suction cup.
The suction cup allows you to stick the sensor onto a flat surface such as a table, monitor base or a window.
Although Kano is best known for producing it's own Raspberry Pi based computer kits this sensor can also be used with a PC or Mac. If you are lucky enough to own multiple devices it is easy to swap the sensor between them. This is useful for parents who might want to learn in parallel with their kids but want to use their own device.
The "Motion Kit" icon takes you into a set of tutorials and challenges. These show you how to use the blocks available from the left hand menu to construct a series of basic games and interactive programs. In the example below moving your hand above the sensor moves, rotates or zooms the three creatures on the canvas :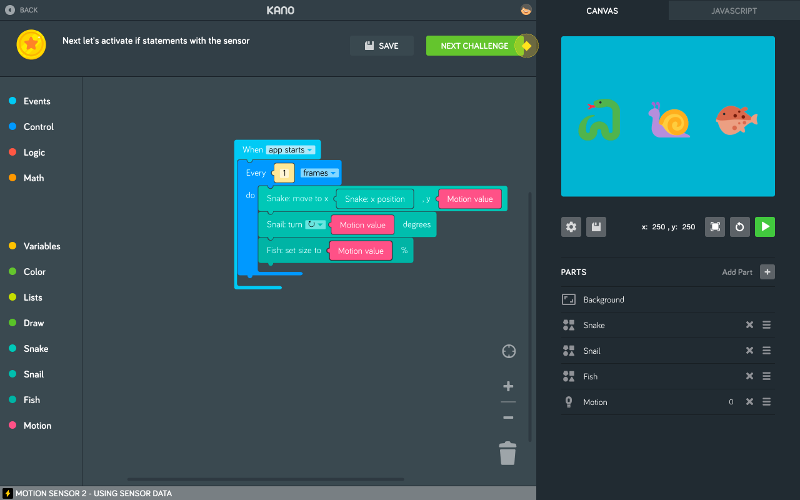 A yellow marker helps identify what you need to click to build up the function blocks.
Once you've been shown how to link the motion data to position or sound volume you can create your own programs.
Kano OS Support
The latest version of the Kano OS provides all the additional tutorials and challenges. I got caught out initially because our Kano was a few versions behind and I couldn't find the "Motion Kit" icon on the main dashboard. My family members had been ignoring the flashing "update" icon for the last few months. Once updated the icon appeared and I was able to continue.
Testing with a Real Child
In order to see how a child got on with this kit I gave it to my 10 year old son. He is familiar with the Kano so I handed him the box, gave him no other instructions and left him to it. He didn't have any issues in following the guidebook, assembling the sensor, plugging it in and finding the "Motion Kit" icon.
Having completed many of the other Kano challenges he was soon ploughing through the tutorial exercises. He didn't need much help except where he had lost concentration and mis-read the on-screen instructions on one exercise.
It's fun being able make things move and make noises using motion.
I asked him what his favourite training exercise was and he said,
My favourite training exercise was creating the air guitar where moving your hand creates different sounds.
This led to much hand waving: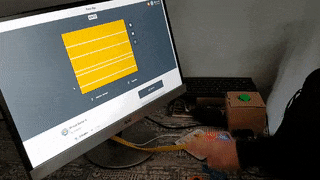 The key at this stage is to encourage the child to create their own programs making use of what they have learnt from the challenges.
---
This kit provides an easy way for owners of the Kano to enhance their system and make their experiments more elaborate. It works with PC and Mac so you don't even need the original Kano Computer Kit. It's priced at £29.99 which might seem high to some but the value comes from it's slick software support and integration with Kano OS.
Of course you can buy $3 sensors from eBay, connect the Pi and control in software but that approach is impractical for many families. There are endless choices but they require time and a certain level of parental expertise. Experienced older hobbyists may look elsewhere but for younger users all the potential frustration has been eliminated enabling them to get straight to the interesting bit. The Kano system is more than it's parts and provides a rich learning environment that competes well with other alternatives.
The Kano Motion Kit is available from the Official Kano Store or Amazon.