The Raspberry Pi 3 B+ has been released and replaces the Raspberry Pi 3 as the main model in the Pi family. It boasts a number of improvements over the previous model including a faster CPU and gigabit Ethernet. Some might have been expecting a Raspberry Pi 4 but an update to the Pi 3 is still good news.
Welcome to the Pi Family
Here is what the new Raspberry Pi looks like :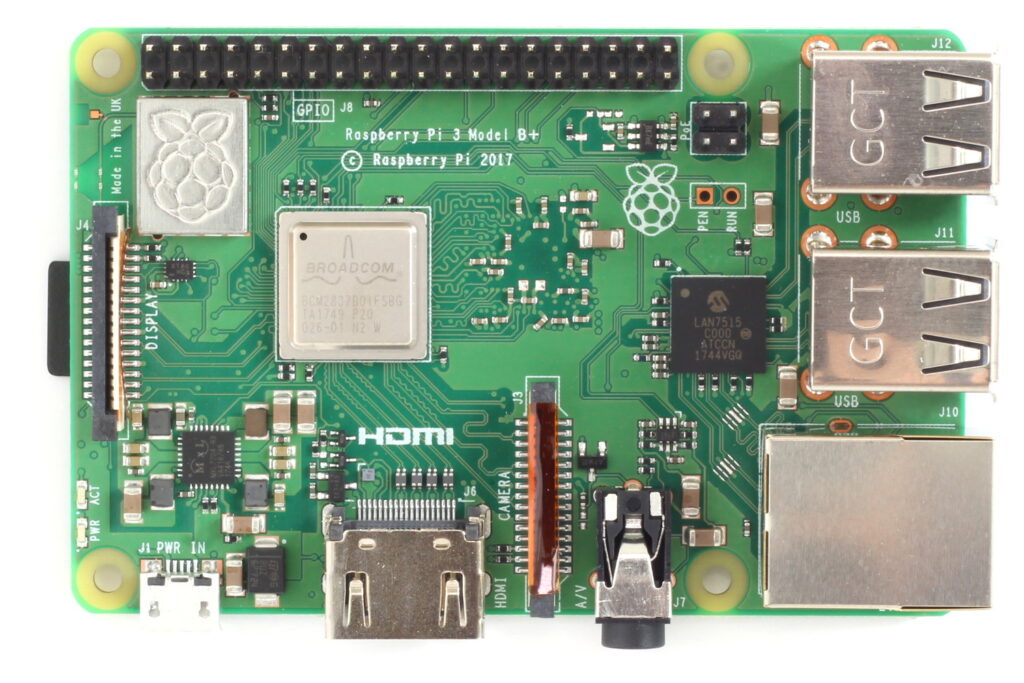 The three most noticeable physical differences are :
Metal cover with Pi logo on wireless circuitry
Metal heat spreader on main CPU
4-pin Power over Ethernet header
Raspberry Pi 3 B+ Specifications
The Pi 3 Model B+ technical specifications are shown below :
Broadcom BCM2837B0 chipset
1.4GHz Quad-Core ARM Cortex-A53, 4 cores
64 bit CPU
1GB RAM
4 USB 2.0 ports (via LAN7515)
Gigabit Ethernet (via LAN7515, max speed 300Mbps)
PoE (power over Ethernet)
40 pin header (26 GPIOs)
MicroUSB power connector
Dual-band (2.4GHz and 5GHz) 802.11ac Wireless LAN and Bluetooth 4.1 (Bluetooth Classic and LE)
HDMI
CSI camera interface
DSI connector for official screen
3.5mm jack connector supporting stereo audio and composite video
2-pin reset header
Micro SD socket
The most notable differences between the Pi 3B+ and the Pi 3B are
Increased clock speed to 1.4GHz
Power over Ethernet support via new header
Gigabit Ethernet although max speed is 300Mbps
Increased WiFi performance in two bands
Improved PXE network and USB mass-storage booting
Improved thermal and power management (via MaxLinear MxL7704)
Heat spreader (the shiny square of metal on CPU)
Better FCC compliance due to metal shield (with Pi logo)
CPU+GPU
The heart of the Pi 3 B+ is the BCM2837B0 running with a clock speed of 1.4GHz. This is an improvement over the Pi 3's 1.2GHz although the number of cores remains the same at 4.
Memory
The memory remains unchanged at 1GB.
Connectivity
The number of USB ports remains unchanged with 4 full-sized USB 2.0 ports on the right hand-side of the board.
The Ethernet port now support Gigabit network connections and this will be welcomed by many users who have been asking for this feature for years. The new model will also support power over Ethernet with some additional hardware. Due to limitations in the the implementation the speed is limited to 300Mbps.
However the overall network throughput is now apparently three time better which is good news for any application that needs to shift data including network storage devices or media centres.
The ceramic antenna has been replaced with a resonant cavity design as seen on the Pi Zero W.
Video and Audio Output
Video output includes HDMI via a full-sized HDMI connector and composite video via the 4-pole 3.5mm jack.
Stereo audio is still available via the HDMI connector and 4-pole 3.5mm jack as in the Pi 3.
Power
The power connector is still a microUSB socket. Power consumption is higher and estimates suggest it draws 170-200mA more than a Pi 3.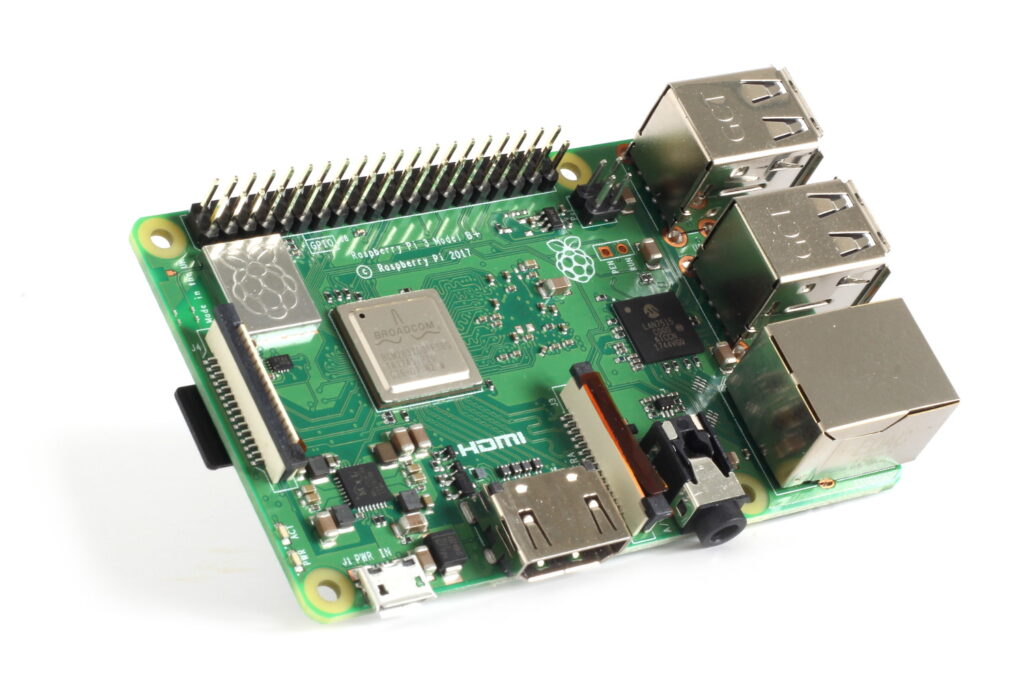 Mechanical Dimensions
The physical size of the Pi 3 B+ remains unchanged with overall dimensions of 85mm x 56mm x 17mm.
Raspberry Pi 3 B+ GPIO Header
The 40-pin header used in this model is identical to previous generations so should be compatible with all hardware that works with the A+,B+,Pi 2 and Pi 3.
Raspberry Pi 3 B+ Pricing
The model is being priced at $35 which will make it the same price as the Pi 3 which it will replace. As always this base price will translate into different retail prices depending on exchange rates and local taxes.
Raspberry Pi 3 B+ Videos
Raspberry Pi Foundation
TheRaspberryPiGuy
RasPi.TV
Should I Buy One?
The official announcement was made on the Pi Foundations Blog. Whether you will want to buy one will depend on your projects but the short answer is probably "Yes"! The low price of the Pi 3 B+ makes it worth buying even if you have other models in your collection. The improved specifications will make it more suitable for media-heavy applications and these will be welcomed by users building retro gaming, network storage or media centre systems.
The Pi 3B+ does consume more power than the Pi 3 and this might not be desirable in your project.
Buy a Raspberry Pi 3 Model B+
The new Pi is available from all official Pi re-sellers so you can expect to buy one from the same places you got your Pi 3 or Pi Zero. The most popular suppliers are listed on my Buy a Raspberry Pi page.
---
You can read more about the official announcement over on the Raspberry Pi Blog.