The Raspberry Pi 3 Model A+ has been launched today by the Raspberry Pi foundation. This new Pi model is a smaller variant of the Pi 3 Model B+.
The Model A boards have traditionally been cut-down versions of the main Model B devices. The Pi 3 Model A+ is no exception. It is basically a Pi 3 B+ with the right-hand side cut off. This makes it smaller, lighter and cheaper but with the loss of the Ethernet socket, USB sockets and some memory. This makes it better suited to some applications and projects.
The Model A+ should be available for $25 (excluding taxes etc) which will make it $!0/£10 cheaper than a full size Pi 3 Model B+.
Raspberry Pi 3 Model A+ Specification
The new device shares many of the features found on the larger B+ :
Broadcom BCM2837B0 chipset
1.4GHz Quad-Core ARM Cortex-A53
64 bit CPU, 4 cores
512MB LPDDR2 SDRAM
1 USB 2.0 ports (via LAN7515)
40 pin header (26 GPIOs)
MicroUSB power connector
Dual-band (2.4GHz and 5GHz) 802.11ac Wireless LAN and Bluetooth 4.1 (Bluetooth Classic and LE)
HDMI
CSI camera interface
DSI connector for official screen
3.5mm jack connector supporting stereo audio and composite video
2-pin reset header
Micro SD socket
The most notable differences between the Pi 3 Model A+ and the Pi 3 Model B+ are
512MB of RAM rather than 1GB
No Power over Ethernet support
Lower power consumption
Improved USB mass-storage booting
Improved thermal management
Smaller footprint
Cheaper by $10
GPIO Header
The 40-pin header on the new Raspberry Pi follows the same scheme used on previous boards :
This should ensure compatibility with plenty of add-ons, software and tutorials.
Mechanical Drawing & Dimensions
The overall size is the same as the previous A+ boards :
Dimensions : 65mm x 56mm x 12mm
First Look
Here is a quick look at the board itself :
Power Consumption
I made some quick measurements to see how the power consumption compared to previous models :
Model
Desktop Idle
Desktop Idle
(WiFi)
1080p Video
1080p Video
(WiFi)
YouTube Video
(WiFi)
Pi A+
225mA
–
245mA
–
–
Pi 3 A+
305mA
340mA
320mA
355mA
400mA
Pi B+
320mA
–
340mA
–
–
Pi 3 B
360mA
390mA
390mA
420mA
450mA
Pi 3 B+
510mA
550mA
520mA
585mA
600mA
The Pi's had a keyboard and monitor connected and were running the latest Raspbian desktop (Nov 2018). I measured the power while playing a 1080p MP4 video via OMXPlayer from a terminal window.
The Pi 3 Model A+ seems to use up to 200mA less than the Pi 3 Model B+.
The WiFi on the newer models was turned on and off using "sudo iwconfg wlan0 txpower off" and "sudo iwconfg wlan0 txpower auto".
Official Case
An official case will be available based on previous designs.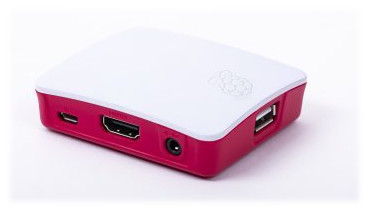 Official Advert
Here is the awesome official advert for the new Pi :
The official announcement was made on the The Raspberry Pi blog.
Buy a Raspberry Pi 3 Model A+
The new Raspberry Pi is available from the usual suppliers listed on my Buy a Raspberry Pi page.