The Raspberry Pi 400 is the latest product to be released by the Raspberry Pi Foundation. The 400 is a compact keyboard with a custom Pi 4 PCB inside. This gives you a compact quad-core computer with all the connectors on the rear edge. Plug in a monitor, mouse and power cable and you have a desktop computer with GPIO pins.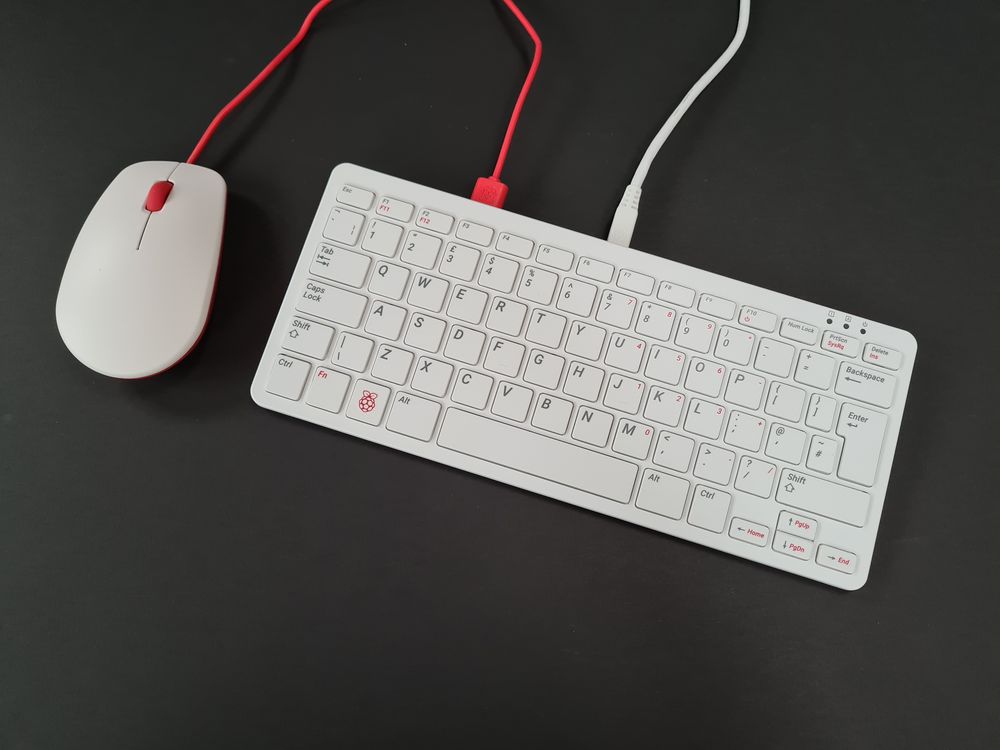 The device I got to play with was supplied in a plain white carton, with a mouse, USB-C power supply, microSD card, HDMI cable and a copy of "The Official Raspberry Pi Beginner's Guide" book. I expect the retail version will include printed "retail" packaging.
I used the new Pi to create this blog post and it worked out quite nicely.
Raspberry Pi 400 Specifications
The physical specifications are:
Weight : 386g
Length : 285mm
Depth : 122mm
Height : 22mm
Power Input : 5V USB-C
Given the Pi 400 is based on a Pi 4 the specifications are similar :
Broadcom BCM2711 1.8GHz quad-core 64-bit ARM Cortex-A72 CPU
VideoCore VI graphics, supporting OpenGL ES 3.x
4Kp60 hardware decode of H.265 (HEVC) video
1080p60 hardware decode of H.264 (AVC) video
1080p30 hardware encode of H.264 (AVC) video
Dual HDMI interfaces, at resolutions up to 4K
Single-lane PCI Express 2.0 interface
2.4GHz and 5GHz IEEE 802.11b/g/n/ac wireless LAN and Bluetooth 5.0
Gigabit Ethernet PHY with IEEE 1588 support
28 GPIO pins, with up to 6 × UART, 6 × I2C and 5 × SPI
Processor
The processor is the same Broadcom BCM2711 as used in the Pi 4 but it has been clocked at 1.8GHz rather than the standard 1.5GHz. This has been possible thanks to a large heatsink that is almost the same size as the keyboard itself.
Memory
The model I got to test was fitted with :
This appears to be the only configuration available but if there was demand I suspect an 8GB version would be possible.
The Keyboard
The keyboard itself is a matrix style and feels very similar to a keyboard you would find on a laptop.
Its features include :
79-keys (78-keys US version)
Num Lock, Scroll Lock, and Caps Lock LEDs
Pi logo key
Power on/off key
It looks almost identical to the conventional official Pi keyboard and almost certainly shares some design history.
Rear Connectors
The headline feature of the 400 is that all the connectors are available on the rear edge. This makes for a neater desktop setup without the Pi being dragged off your desk by the HDMI cable.
Looking the the rear of the device from left to right the connectors are :
40 pin-GPIO Header
microSD card slot
2x micro HDMI
USB-C power
2x USB 3.0
1x USB 2.0
Gigabit Ethernet
On the far-right is a Kensington security slot (K-slot) which provides a simple way to secure the device and prevent anyone walking away with it. This will be of interest to anyone wanting to use the 400 in a classroom or public space.
Due to the form factor there are number of Pi features that are missing from the Pi 400. These include the DSI, CSI and 3.5mm sockets. Audio can be routed via the HDMI connector if your monitor has integrated speakers. The lack of camera interface is perhaps frustrating but really this iteration of the Pi isn't designed for camera based projects.
I'm sure someone will pop-open the plastic shell and we will see what hardware is available inside. UPPDATE : The PiHut opened theirs up so you don't need to!
Pricing
The base unit is available for £67 with the starter kit selling for £94.
Videos
Here are two videos I created to show the 400 in more detail. The first one is two minutes long …
And a slightly longer version …
Final Thoughts
The Raspberry Pi 400 is a welcome addition to the Raspberry Pi line-up. It is a great start for beginners while also providing a neat desktop solution for everyone else.
The physical design makes it more suitable for permanent use on a desk. A conventional Pi board may be better suited for many other projects especially if they need a CSI based camera.
Buy a Raspberry Pi 400
The Raspberry Pi 400 will be available from many of the places you have previously purchased Pi products from. In the UK this will include :
Please search for Approved Resellers in your region on the Official Pi website.
The Official website states that "Raspberry Pi 400 unit will remain in production until at least January 2026".
Disclaimer : I was sent this device and accessories free of charge. This came with no restrictions or expectations other than to not mention it until the official launch. All comments made in this blog post and my supporting videos are my own honest opinions based entirely on what I found in the box.