RPiREF is a mobile device application currently available for Android on the Google Play Store. It provides an easy way to look-up the Pin-outs on most of the common Raspberry Pi headers.
The app allows you to select the Model of Pi you are interested in and adjusts the content and diagrams to match. It provides the option of selecting all the current Raspberry Pi Models
Model A
Model B (Rev 1 and Rev 2)
Model A+
Model B+
Pi 2
Pi 3
Pi Zero
Yes this information is already available in a number of forms (including this site!) but having it available on your Android smartphone or tablet is useful when you are experimenting or discussing Pi ideas with friends or working away from a computer.
This app covers :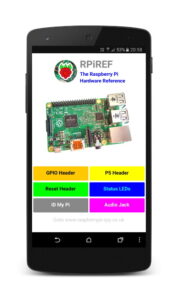 Model A & B
Pin numbering of the 26-pin GPIO Header P1
Pin numbering of the P5 Header on Rev 2 boards
P6 reset header
3.3V, 5V and ground pins
Status LEDs
Audio Jack (stereo audio)
Model A+, B+, Pi 2, Pi 3, Pi Zero
Pin numbering of the 40-pin GPIO Header J8
RUN reset header
3.3V, 5V and ground pins
Status LEDs
Audio Jack (stereo audio and composite video)
The app also contains some simple tips to identifying the different models.
A blue zoom button on the GPIO Header page allows you to scale the diagram to fit your particular screen size. I avoided auto-scaling it because I know some people use the diagrams under different conditions and prefer the flexibility of choosing. Just like the Model setting this is remembered between sessions.
You can also tap the main GPIO diagrams to cycle through three preset zoom levels.
The app contains no adverts but does include a few links to this site at the foot of some pages where you will find an article relevant to the screen you are looking at.
Don't guess. Check your connections with RPiREF!
Screenshots
There are more screenshots on the Google Play Store listing but here are a few images :
Permissions
This app does not ask for any unnecessary permissions. Just the way I like my apps!
Download It!
Rate It!
Please rate and G+1 the app if you use it but please do so based on usability and the description I have provided. I don't claim it "connects to a Raspberry Pi" so please don't be too surprised if it doesn't 😛